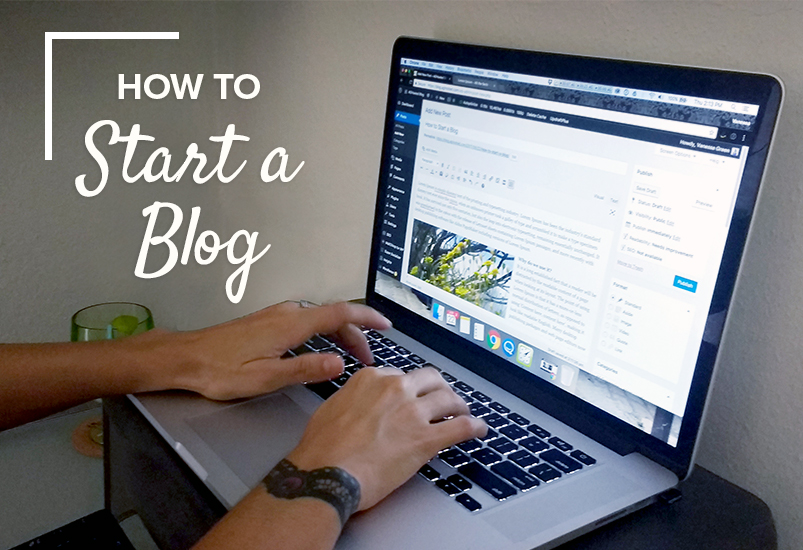 The moment you decide to start a blog is filled with energy and excitement to start sharing your ideas and begin your journey online. That drive sometimes gets lost in the startup details like purchasing a domain, choosing your web hosting, selecting a theme and customizing it. Each of these push writing that first post further and further down the road.
So, how can you get through all that to the part where you start sharing great content, growing a community, and loving your blog business?
Start with a Plan
Take the time to outline the goals for your blog. What's my niche? Who do I want to read my blog? Start thinking about design and page structure, and how you want to present your content. That includes how you want readers to navigate your site, and how you want them to feel when they visit your page.
It can be very helpful to write it down. Longtime AGhosted client, Mandi Ehman shares free blog printables on her site, which can be useful when getting that plan started. If you enjoy working with a planner, check out another longtime AGhosted client, Ruth Soukup's, free blog planner. The point is to start with a plan that you can step through as you develop your content.
Purchase a Domain Name
Purchasing a domain is easy, and if you are working with us, you can do so when you sign up for hosting. It's $15 per year, per domain. Your domain is the listing you rent for your website's address. Your site visitors type it into their browser's address bar to load your site. While you can find domain resellers, it's convenient to have it managed by your hosting company.
Find a Web Host
Ask friends or other seasoned bloggers in your online communities where they're hosted or for a recommendation. Look for WordPress hosting with 1-click installation, proactive security, theme and plugin support, backups, and SSL among others. Check whether they provide site management services with their hosting, or as an add-on service. Your site will require regular maintenance updating WordPress Core, plugins, your theme, managing your backups, and so forth.
Our WordPress hosting environment is tailor-made to address the needs of our blogger clients, ranging from newbies to veteran bloggers, and everything in between. We offer a starter plan for those new to blogging and three professional plans that can scale as your site grows. We also offer management service packages so you don't have to worry about the details of keeping your site healthy. Signing up for our hosting is as easy as filling out our online signup form. Your hosting will be ready in just a few minutes.
Customize Your Blog's Appearance
Once you're set with a domain and hosting, you can start looking at themes. A WordPress theme is the design template for your site, where you can fill in parts of your site with logos, text, colors, etc. You can browse a library of free and premium, or paid, options from within WordPress Admin. To do so, go to your left sidebar, select Appearance and click on Themes.
If you want a theme with more customization or something tailored for your niche, narrow your search with that in mind. There are many companies that sell premium WordPress themes for a variety of uses, markets, and niches. These themes often include a variety of extra features, like built-in SEO, e-commerce, forms, and more. Narrow down your options based on the functionality you need.
After you've selected a theme for your site, it's time to start customizing it. Go to Appearance → Customize. That'll open up a live view of your site with your new theme, and a sidebar on the lefthand side. There, you can start filling in the text, adding your site logos, and more.
Side note: If you're looking for an easy way to create images or graphics to add to your site, check out our post on how to use Canva. It's a drag-and-drop image-editing program with templates, free images, and more, to create powerful image compositions.
Draft Your First Post
Now, you can finally roll up your sleeves and get to writing your content. To create a new post, go to Posts → Add New. Type in a post title in the box at the top, and start typing away in the body. You'll find that WordPress's post editor is similar to word processing programs. Before publishing, make sure to select a category and add tags to help people find your content. Lastly, upload a featured image for social media and publish.
Get Help
There's no shame in getting help. Many web designers and developers specialize in WordPress design and theme setup packages. One of our AGhosted clients, Moritz Fine Designs works with bloggers of all sizes to design beautiful blogs, and offers three design packages on her site.
In addition, we offer WordPress theme design, custom plugin development, hosting, and WordPress site management services. Let's talk about how we can come alongside, and help you create the blog of your dreams. Drop us an email and let's get started.