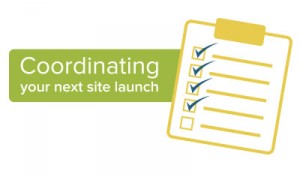 You've spent several hours, days, and maybe months, planning the launch of a big project, promotion or campaign that could result in thousands of new site visits, hundreds of new signups, or a flood of purchases. With your finger hovering over the button to launch this "new thing," contacting us to make sure your hosting plan is ready to handle the load, is probably the farthest thing from your mind.
But what if a simple email and proactive review of your server could help prevent minutes, or hours of site downtime after a project launch snafu? When we are involved before a big project goes live, we can help make sure your site and server have the resources they need to weather a big swell in traffic after launch. We can put optimizations in place that could prevent certain hiccups, identify potential pitfalls with your setup, or even adjust your plan's CPU, RAM, or storage allotments temporarily to accommodate the rush of hits your website takes during a new launch.
Often, we are invited to the party to clean up an issue or mishap after a big change to your website causes your site to be unavailable to your visitors. Those big changes can introduce incompatible plugins, strain your server resources, and incur unforeseen side effects, all of which means unwanted downtime or slowness. These downtimes aren't ideal (obviously!) as they can adversely affect the success of your project, promotion, or campaign, especially so soon after launch. For that reason, we are more than happy to take a look at your setup, the specifics of what or how you are launching your new project, and test how it will interact with your hosting environment before going live.
While our server checkups are not foolproof, they're a great step we like to offer our clients near the launch of their new project or site. Add Agathon Group to your pre-launch checklist: give us a couple of days, contact Support to schedule a proactive server performance review, and we'll do our best to make sure everything is in place for success!