Getting your freshly squeezed advice or creative ideas out to loyal readers is top priority after you hit "Publish." But how you do that can vary from setting up new post notifications, blasting social media, or manually assembling newsletters for your readers. With dozens of email service providers out there and an equal portion of newsletter plugins for WordPress, which should you choose?
Decide on your strategy
Simply put, plugins can be the easiest to use, but often lack some of the more advanced features of email service providers. You want to choose the option that fits your needs best, and that starts with thinking about your notification strategy.
First, you'll want to figure out how you want posts to reach your subscribers, taking into consideration both post and notification frequency. For instance, if you post multiple times throughout the day, sending automatic notification emails for every new post ends up bombarding your subscribers' inboxes. In that case, you might want to use a plugin to prepare a daily digest newsletter, pulling from new posts.
But if you want to further customize when and what your subscribers receive, would like to monitor how they interact with your emails, and want more options for managing your list and emails, you might need the extra features of an email service provider.
By starting with a clear idea of your content publishing strategy, your search for providers or plugins will be focused on those that will help you implement it.
Manage your subscribers and newsletters with a plugin
If you prefer to manage everything through the WordPress Admin Dashboard, we like the newsletter plugin MailPoet, offering a free email service and management of your lists for up to 2,000 subscribers. What's more, you can send up to 10,000 emails to each of those subscribers each day, across multiple lists. (MailPoet offers three service plans to choose from once you decide to upgrade.)
With MailPoet, you can send automatic messages every time you post, or choose when to email your subscribers, dragging-and-dropping which posts to include in the message within the plugin's email styler. You can select a theme or upload a custom design1, make style changes, and select which type of content you want to place in your theme blocks.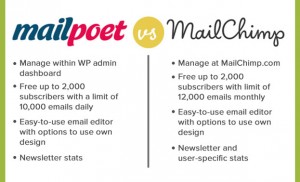 When it comes to time to send your newsletter, MailPoet offers three options: through your website, via SMTP (for example, by using our recommended plugin, Postman), or using Gmail.
Manage your subscribers and newsletters with an email service provider
If you're looking for a service you can use to create your newsletter, manage subscribers and lists for multiple websites, set up automation features, and A/B testing, you should check out MailChimp.
We're growing our AGhosted community list with MailChimp's Free Forever plan, with 2,000-subscriber and 12,000-emails-per-month limits. Those limits are generous compared to most email services, where monthly fees begin for fewer subscribers after your free trial. We like MailChimp's breathing room and feature set.
With MailChimp, you can manage your subscription lists for multiple websites, create different signup forms for each website, and manage all of them at MailChimp.com. This is a nice feature, especially when you want to email all of your subscribers from across your websites. You can also segment your lists to customize the type of emails you send to each, and set what information you store for your subscribers to help with testing and delivering relevant content to different segments of your list. Within each newsletter campaign, you can view stats on how each user interacted with your newsletter and use that information to make adjustments based on what is most effective.
We add new subscribers to our MailChimp lists with the MailChimp for WordPress plugin. It lets you create custom signup forms to match our subscriber lists and segments, is easy to configure, and adds new subscribers seamlessly.
When it comes to designing your emails, MailChimp offers templates, themes, and the option to upload your own custom design. One feature that has "saved my bacon" is that if you try out a new template or theme midway through setting up your newsletter, MailChimp transfers all content you had previously loaded to the new setup.
Unlike MailPoet, with MailChimp your emails are saved on and sent from their mail servers, so you don't need to worry about delivery methods or server load.
So, which is better: plugin or email service provider?
If you're still not sure which option fits your newsletter strategy better, or you're still figuring out your strategy, that's okay. Both MailPoet and MailChimp have free plans where you can take them for a test drive, and explore the different features each presents. Create test emails, set up signup forms, use the email stylers or upload a design, and figure out what works for you.
What have you found works best with your blog strategy: plugin, email service provider or something else?
---
Footnotes