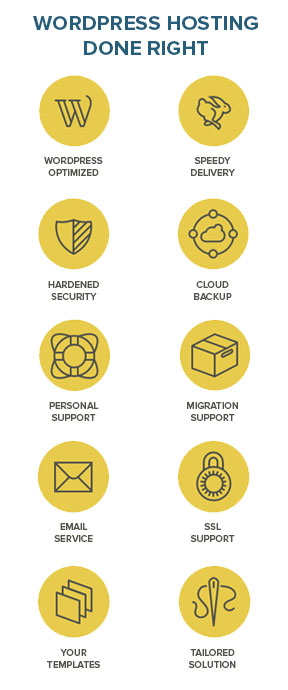 When Agathon Group first welcomed a handful of pro bloggers to our client community, we were eager to improve their hosting experience and serve them better. Our developers and systems team crafted a new hosting package for the unique needs and constraints of WordPress. Now, we're proud to announce the official release of AGhosted, our WordPress-optimized hosting plans. These plans were designed, tried, and refined by our team and our community of pro bloggers to improve real-world hosting situations. This is WordPress hosting for people with big dreams.
Our first move was to build up an arsenal of WordPress best practices and optimizations and make it easier for our growing fold of bloggers to take advantage of these tools. AGhosted plans emerged after finding the stuff that works, adjusting the stuff that didn't, and rolling that into a pushbutton WordPress service. AGhosted plans are available in three sizes, with easy options to change as traffic grows.
Each AGhosted plan supports all WordPress themes, includes email service to support domains, cloud backups, hardened security measures, a control panel, and uses state-of-the-art caching technology to get content to readers as quickly as possible. In addition, Agathon Group offers domain registration services, SSL support, migration support, and more.
Still, a great hosting environment crafted with all of the important features is only part of why we think AGhosted is going to "do good" for our clients. We are a small team dedicated to customer service, problem-solving, and are invested in the success of our clients' sites. We know our clients by name. When they call or email, they don't need to quote an incident number, remind us who they are, or worry about finding the right department.
We built these hosting plans for real bloggers that we work with and are ready to add more great clients to our AGhosted family. Agathon Group offers a free site(s) assessment for new clients to recommend which plan would fit best. If you are interested in more information about our new AGhosted plans, or are ready to sign up, click here.
If you're curious or want to see what we're about, connect with AGhosted on Facebook, Twitter, Google+, Pinterest, and LinkedIn. We look forward to connecting with our bloggers and those interested in taking their blog to the next level. We want to give our clients' another way to get in touch about their sites or hosting needs, share blogging advice from veteran bloggers to mentor newbies, host exclusive interviews with top bloggers, have a good laugh together (because why not?), and grow with this group of great people. Let's get to chatting.
In addition to AG hosted plans, Agathon Group specializes in cloud hosting, and developing custom software solutions. To view our portfolio or range of services, go to www.agathongroup.com.
---

ABOUT AGATHON GROUP
Agathon Group began back in 1999 as a small team of people united by the conviction that the best job is the one you love doing. We've spent the years since then providing hosting and custom software development for a diverse clientele including everyone from telecommunications firms to worldwide mission organizations, from large publishers to enthusiastic bloggers, from a leader in biotech instrumentation and environmental research to the largest Christian ticketing firm on the internet. Regardless of size or budget, our commitment remains the same: our clients deserve our full attention and the best work we can produce.
Connect with Agathon Group on Facebook, Twitter, and LinkedIn.