Ever want to keep one of your campaign posts at the top of your blog for a period of time? Or would you like an introduction for your blog to remain at the top of your page indefinitely? Well, there's a built-in feature in WordPress that can help with one click — sticky posts.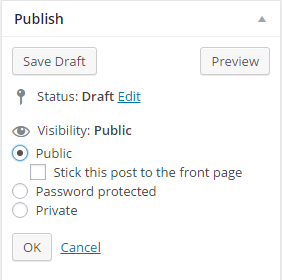 You may have noticed a check box under the Visibility section of your Publish meta box on the Posts → Add New screen.  When selected, this Visibility setting overrides the reverse chronological order native to WordPress, and makes the blog post show up at the top of your front page. Unless you edit your post, uncheck the feature and hit "Update", the post will continue to "stick" to the top of your front page. Here are a few occasions you might want to try out this sticky function.
Using sticky posts for campaigns or to run sponsored stories for a limited time
The sticky post function in WordPress can be very handy when you'd like to feature a campaign, promotion, or sale post at the top of your page through the campaign period. Let's say you have a sale going on for two weeks and would like to remind your users of this information every time they visit your site. Another good opportunity to use the sticky post function is when you have one or two paid or sponsored stories to feature on your blog for a limited time.
After your post is ready, go to the Publish meta box and select, "Stick this post to the front page" box, under Visibility.  Now, even if you post new content after it, the sticky post will remain at the top. Once your promotion or campaign has expired, you can edit your post, uncheck the sticky post box, and update. At that point, the post will return to its place in reverse chronological order.
Using sticky posts to anchor an introduction or bio on your page
If your theme doesn't leave enough room to feature an introduction paragraph or biography in a sidebar or at the to of your blog page, you can use the sticky post function to place it at the top. You can keep that post "sticky" for as long as you would like. Simply, select, "Stick this post to the front page" and post as usual.
We recommend limiting the amount of sticky posts you have active on your site at a given time. Sticky posts override the default reverse chronological order in WordPress and having too many sticky posts active at the same time can make it look like your content isn't updated regularly.
Make sure your theme supports sticky posts or look through WordPress's index of themes that advertise support of sticky posts, here.
Love sticky posts?
Here are a couple of plugins that work with sticky posts:
Expire Sticky Post – automatically expires your sticky feature on a post based on a date you provide.
Category Sticky Post – allows you to add sticky posts to your category pages, not just your front page.
How do you think you will use sticky posts? If you are already using sticky posts, how do you use them?